Herzliya Medical Center ( HMC ) is a private multi-institution clinic, it is considered one of the best- not only in Israel, but in the world. It began working in 1978 on the Mediterranean coast to the north of Tel Aviv. The daily work of Israeli doctors ensures the long-awaited results to thousands of patients from abroad who come to Israel for treatment. The high level of medical care and the individual approach to each patient in conjunction with the constant care and attention to their needs, confirms the excellent reputation of the clinic among Embassy employees  and senior officials of many countries.
The HMC is the caregiver of all the peacekeeping international organizations in Israel like UN, UNDOF, UNIFIL, UNTSO and MFO, and of international insurance companies like AIG and Blue Shield of the USA.  The clinic is deservedly among the elite medical institutions in Israel.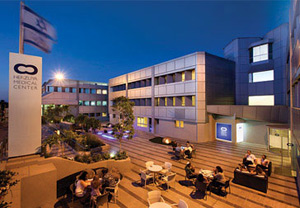 A unique feature of the Herzliya Medical Center is the license to conduct the most complex procedures in all areas of medicine: open-heart surgeries, balloon angioplasty and coronary angiography; endoscopy surgery; neurosurgery; microsurgery; urology and  kidney transplants. 
The Herzliya medical center has a leading number of medical personnel. Each patient receives expert help and the opportunity to receive diagnosis, treatment and postoperative care in comfortable surroundings.  endoscopic surgery, neurosurgery, microsurgery, urology, gynecology, endoprosthetic joint replacement, plastic surgery, and surgery using laser technology. The cardiothoracic surgery department is noteworthy. It is equipped with the most modern equipment that is  required for the success of complex surgeries- among the equipment  there are the latest generation devices for anesthesiology and intensive care.
All staff undergo strict selection to conform to the highest standards. The hospital keeps on staff highly qualified doctors and accredited specialists who are practitioners in state hospitals that engage in scientific research and teaching at universities.
At Herzliya Institute of Laser Therapy, dozens of patients with ENT diseases are treated daily. The Institute treats
diseases by using the latest techniques. Additionally, there are these areas of expertise: Department of Vascular Surgery, Diagnostic Center, Ophthalmology Department, and Institute of Genetics and IVF Center.
The hospital provides a full range of services in various fields of medicine, including:
Oncology,
Hematology,
Neurology and neurosurgery,
Endoscopy,
Microsurgery,
Orthopedics, one of the main fields that focuses on endoprosthetic  joint replacement with aid of computer navigation,
Gynecology and Urology (including oncology)
There is clearly a high level of professional training of the specialists at The Herzliya Medical Center, as well as the assurance of innovative techniques and the use of
modern medical equipment. All of this helps diagnose almost any kind of disease and implement a successful treatment- right here in Israel.
Our MEDISRACENTER company is the official representative of Herzliya Medical Center (HMC)  and we guarantee you quality treatment and a warm, sincere attitude.